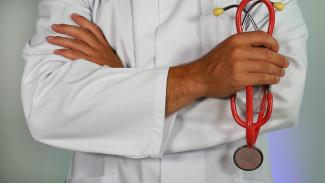 The Easiest Way to Prepare for Medicare
Your 65th birthday is right around the corner and you know what that means? You've got to sign up for Medicare. But where do you start?
Signing up for Medicare coverage does not have to be complicated. Especially when you know the steps you have to take and when, so you can plan ahead.
When is Medicare Open Enrollment?
Medicare Open Enrollment for 2020 Coverage: Begins October 15 and continues until December 7.
Get access to more Medicare resources and discover the coverage changes you need to know at MedicareResources.org.
Plan Ahead for Medicare
The enrollment period for Medicare starts three months before the month you turn 65 and coverage can begin as soon as the month of your 65th birthday. This Initial Enrollment Period allows you seven months to sign up.
You don't want to miss the boat because then you're charged penalties. And you pay that penalty for as long as you're enrolled. But that's not going to happen because you are taking the steps now to be ready.
Maybe you've heard some of the jargon around Medicare coverage? Plan A, Part A, Part B, Plan F, 60-day enrollment period, copays, deductibles… it can all be a bit overwhelming and confusing, but there are qualified advisors willing to help sort it out with you. Help you get clear on what these terms mean to you and help you find the right plan for your specific needs.
Because what's more important in retirement than your health, stability and peace of mind?
Medicare Basics
Original Medicare has two parts: Medicare Part A, which covers hospital care and Part B, which covers medical care. But what's the difference between "hospital care" and "medical care"?
Hospital care:
Home health care and hospice care
No cost to nearly everyone who is eligible for Medicare

Medical care:
Doctor visits, outpatient care, and supplies
Monthly premiums due for most people eligible for Medicare
Why Medicare Supplements?
Most people are automatically enrolled in Part A, but you must sign up for Part B. Being enrolled in Part B means you are eligible for Medicare Supplements, which help cover gaps in medical coverage. Gaps that Original Medicare doesn't fill. Gaps that can mean more bills that you're responsible for.
There are many options for Medicare Supplements, which means you have a choice in what's best for you. But too many choices in medical care coverage, just like too many choices in other areas of life, can lead to "analysis paralysis." Meaning you're so overwhelmed with the choices and the rules and the descriptions of the plans, that you don't make any decision at all.
That's why it's important to find a trusted professional to help you navigate this decision. Someone who understands how Medicare and Medicare Supplements work and can advise you of important points like how you must enroll in supplements during the first 6 months of medical coverage to avoid having to answer medical questions. A true professional will take the time to learn about your situation and help you match it with the right plan. A plan that will give you peace of mind and stability in the years to come.
Next Steps
You probably have a lot of questions right now like…What if I'm still working at age 65; what are my options if I retire before age 65; do Medicare rates, deductibles and costs change; or what's not covered by Medicare?
These are all good questions. Don't wait to get the answers you need to make the right decision.
The easiest way to prepare for Medicare is to contact Bradford Financial Center today to set up an appointment to discuss your Medicare Supplement options and get your questions answered so you can step into retirement on the right foot.