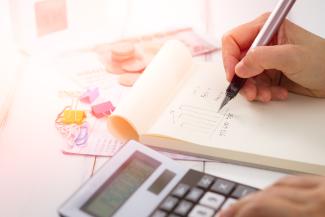 Getting Your Finances in Order
Don't let a milestone force you to scramble to get your financial life in order, starting now can save you time and give you peace of mind. It begins with making a commitment to organize, plan and set goals that will help you reach your financial goals. As always, working with a financial advisor can help point you in the right direction, save you time and money and deliver trusted advice.
How to Start Getting Your Finances in Order Now
Get Organized. Whether you're using an app, online spreadsheets or an old school notebook and binder, collecting and organizing your financial documents is an important first step to getting your finances in order. Gather all your financial documents related to investments, insurance policies, mortgages, loans, taxes, and household utilities or bills. Maintaining this information in one easy-to-find space will save you time and energy when you need to reference it. You don't have to be a Bradford client to use our FREE Financial Planning Guide. Download this handy planner to keep all your financial information in one, safe place.

Take Inventory of Your Financial Situation. Once you have your financial documents in one place it's a good time to take inventory of those accounts. This is a great time to assess your interest rates, insurance policy coverage, debt load and more to see if you can consolidate, reduce your bills, and save money or avoid tax liability. Consulting with a trusted financial advisor can help you identify areas you might be missing and uncover opportunities for saving money.

Investing the Extra. If you've discovered you have areas where you can save more money it's a good time to consider increasing your investments. A financial advisor can help you determine smart moves for optimizing your investments and ways to save on taxes.  

Estate Planning. Whether you have children to consider, are passionate about a charitable organization, or simply want to leave a legacy, creating a will or living trust is a responsible way to get your finances in order. Seek out a financial advisor to guide you through the estate planning process to ensure your wishes are met, the tax liability is reduced or tax penalties avoided, your loved ones are cared for and an executor is assigned who can manage your accounts and who will have your best interest in mind.

Safeguarding Your Information. From keeping your financial documents in a safe space to protecting your identity, safeguarding your financial information once it's organized is a crucial step and also gives you peace of mind. Consider investing in a home safe or renting a safety deposit box where your documents, passwords, and account information can be securely kept. It is important to change your passwords annually. A financial advisor can also maintain your financial documents securely.

Planning Your Emergency Fund. Being prepared is the best way to plan for what's next. Experts suggest keeping cash total on hand (or easily accessible) that is equal to 3 or 4 times your monthly salary is smart planning. These emergency funds can be kept in a money market account or Certificate of Deposit (CD) so that they are easily accessible but still safely earning interest.
Once you have your finances in order it's a great time to meet with a financial advisor. Our teams can help make sense of your financial portfolio, recommend options to help you reach your financial goals and be trusted managers of your wealth journey.
Meet our Bradford Financial Advisory Team then contact us to explore your next steps.