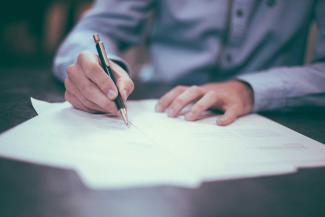 New Ways to Approach Retirement | Kicking Off A New Venture As A Senior
Here's why retirement is a great time to get your business off the ground.
A lot of seniors are exploring their true passions as their full-time careers draw to a close. Eagerly stepping into the second act of their lives, they're finding fulfilling work while in retirement.
If you, too, want to challenge yourself, have a flexible schedule, and do something you love while bringing in some extra retirement income, consider starting your own business.
According to Forbes article, "Forget Retirement— Many Baby Boomers Are Starting Small Business Instead", entrepreneurs over age 50 make up more than half of America's small business owners and 17% are between 60 and 69 years old.
Besides the excitement of starting something new to help you feel half your age and full of energy, here are a few other reasons that starting a home-based business might be your ticket to a fulfilling retirement.
The benefits of starting a business in retirement
1. Stay busy in your spare time.
Sure, you've got golf, grandkids, and road trips across the U.S. in an RV to fill your days, but even these recreational activities you longed for during your working years can leave you wanting more.
Having a home-based business with a flexible schedule allows you to fill in those pockets of time with work that you choose to do—work that's meaningful to you.
There are many home-based business options. If you enjoyed what you did in your career and would like to continue to work in that field, but on your own terms, a contractor or consultant role might be right for you.
2. You have knowledge, skills, and ideas that and employers want.
According to RetiredBrains.com, more and more employers are finding it cost effective to hire boomers, seniors and even 'retirees' on a part-time or project assignment basis."
You've got a strong work ethic. You already understand the business or industry. You WANT to be there and you might not need the company to pay health insurance benefits. This makes you desirable as a consultant. In this role, you may be able to determine your work schedule and set your own rates.
Most In-Demand Fields
Human resource consulting firm, Robert Half, identified the most in-demand fields for consultants:
Finance and Accounting Skilled at forecasting, analysis, budgets, and reporting? This might be the perfect fit.
Business Systems and Performance Improvement Consider this if you enjoy challenges, innovation and problem-solving.
Taxation If you have tax knowledge there might be a consultant role for you.
Governance, Risk, and Compliance These consultants can optimize risk-return outcomes and improve overall business performance.
Finance Optimization This role is right for someone skilled at remediation and managing mergers and acquisitions.
This could be a great time to pursue passions outside of your previous profession. Some of the best business opportunities for retirees include:
Senior chauffeur
Hauling services for trash, garden waste or household items
Using teaching experience to tutor students
Selling your woodworking, crafts, or other art
Pet services
Childcare
Freelance writing
Running a bed & breakfast
Party planner
Supplementing your Social Security income or retirement is a key reason to consider a new business venture.
3. You can earn extra income in retirement.
When you start a business in retirement, it's nice to see those extra dollars in your bank account to relieve the stress of pinching pennies and giving up the nice-to-haves.
However, you do have to be mindful of how it could impact your tax liability; it could shift you into a higher tax bracket.
Depending on how much you make, it might also impact your Social Security income.
If you receive your Social Security checks as soon as you can at age 62, there is a cap on how much you can earn. In 2018, it is $17,040 annually and goes up every year. If you earn more, your benefits are reduced by $1 for every $2 you earn over that amount.
If you wait until full retirement age, which is 66 or 67 depending on your birth year, you can earn as much as you want without it affecting your Social Security.
If you do receive Social Security checks early and are working when you hit full retirement age, $1 is deducted from your benefits for every $3 you earn.
Check out www.ssa.gov to find out more about how work affects your benefits.
Another point to consider is whether the extra income will trigger a surcharge on Medicare Part B and D. It could, depending on how much you earn. In 2018, the max salary allowed to avoid a surcharge was $85K for an individual and $170K for a married couple filing jointly.
But don't let this completely you deter you from exploring starting a business. Because there are plenty of perks, too.
4. There are numerous tax advantages.
If your situation qualifies, there are deductions you can take that will lower your taxable income.
Setting up a home office for your business might mean you can deduct a portion of your home's mortgage, interest, property taxes, utilities, and repairs as well.
Being self-employed also entitles you to deductions for internet and phone bills, gas mileage, and meals.
How to know if starting a business is right for you
There are many benefits to starting a business in retirement, including remaining active and engaged, which improves overall health and wellbeing. Even so, it's important to consider all aspects of the decision before taking the leap.
AARP has a wealth of information regarding small businesses for those over 50. Find out more about working after retirement. 
Bradford is also here to help you get the most out of your retirement. Call a Bradford Tax & Accounting Network Specialist at 515-532-6661 or email admin@bradfordfinancialcenter.com before embarking on your new adventure.