Company Logo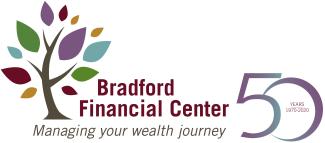 Email
admin@bradfordfinancialcenter.com
Disclaimer
Securities offered through United Planners Financial Services, Member FINRA and SIPC. Advisory services offered through Bradford Financial Center, a Registered Investment Advisor. Insurance Services offered through Bradford. Bradford and Bradford Financial Center are not affiliated with United Planners.  
We are registered to sell securities in the following states: Alaska, Alabama, Arkansas, Arizona, California, Colorado, DC, Florida, Georgia, Iowa, Idaho, Illinois, Indiana, Kansas, Kentucky, Louisiana, Massachusetts, Maryland, Maine, Michigan, Minnesota, Missouri, Mississippi, Montana, North Carolina, North Dakota, Nebraska, New Jersey, New Mexico, Nevada, New York, Ohio, Oklahoma, Oregon, Pennsylvania, South Carolina, South Dakota, Tennessee, Texas, Utah, Virginia, Washington, Wisconsin, West Virginia, Wyoming.
Form ADV Part 3: Relationship Summary   Disclosure Brochure   Privacy Policy
215 North Main Street
PO Box 540
Clarion, IA 50525
United States
Company Description
We are dedicated to providing investment management and strategic wealth planning that is right for you. Simply put, we strive to be our client's trusted advisor.